What is your PSI?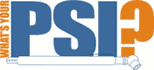 Do you know the correct PSI for your vehicle's tires?
The "What's Your PSI?" campaign is designed to challenge consumers to learn the correct tire pressure (pounds per square inch or PSI) for their vehicle's tires, help them to maintain proper pressure — and ultimately help everyone avoid tire failure and crashes.
In addition to making road travel safer, inflating tires to the correct PSI has other benefits as well. Motorists who "know their PSI" and maintain it can help to optimize fuel economy and tire life, saving dollars and protecting our environment in the process.
National Tire Safety Week
Look for NHTSA's "What's Your PSI?" and the Rubber Manufacturers Association's (RMA) "Be Tire Smart, Play Your PART" campaign materials at tire safety partner locations throughout the country.
NHTSA and RMA along with the National Automotive Dealers Association (NADA), the American Automobile Association (AAA), and American Car Care Centers (ACCC) are dedicated to helping motorists learn how important proper tire care is to vehicle safety.
---From www.safercar.gov