Display with RS232 interface to achieve integration with GPS or other on-board terminals
External antenna kit provided for reliable long distance communication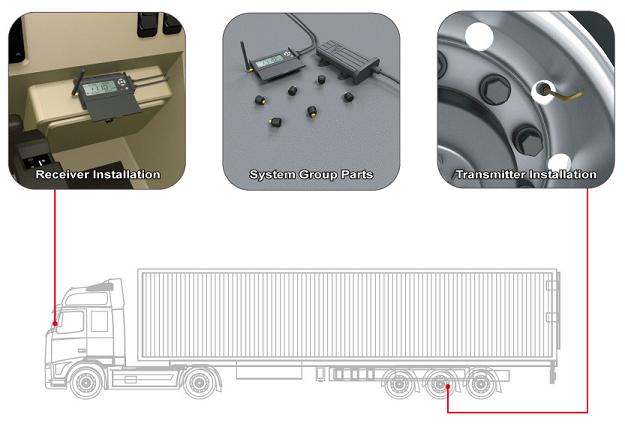 General Description
TPMS1309R is an OEM model designed for trucks, suitable for bus or truck manufacturers. The system consists of transmitter, receiver, external antenna kit and standard booster(optional), through the data interface, tire pressure, temperature and other information can be sent to in-cab display system.
Operation Function
Transmitter ID programming: Transmitter ID can be programmed for easy replacement
Alarm Record Inquiry: automatically record the latest 10 alarm records
Standard Pressure Programming: standard pressure for each tire can be programmed on monitor
Pressure and temperature unit selection: pressure and temperature unit can be selected.

Product Feature
1. The compact receiver is suitable for installation anywhere on the truck head;
2. Through the data interface, signals and alarm information received by receiver can be transmitted to
the in-cab display system and displayed
3. Functions such as Fast Leak Alarm, Low Pressure Alarm in three levels available
4. Easy installation, suitable for assembly process of the manufacturer
5. Booster available upon customer request
6. Simple component, easy maintenance.
7. Through the data interface, tire information can be integrated with audio-visual system or GPS to consist
of the perfect vehicle management system.

Alarm Function:
High Temperature Alarm issued when tire temperature exceeds 90℃.
Low Pressure Level 1 Alarm issued when tire pressure is 12.5% lower than the standard pressure.
Low Pressure Level 2 Alarm issued when tire pressure is 25% lower than the standard pressure.
Low Pressure Level 3 Alarm issued when tire pressure is 50% lower than the standard pressure.
High Pressure Alarm issued when tire pressure is 25% higher than the standard pressure.
Fast Leak Alarm issued when pressure inside the tire drops more than 3psi within 12s .
Transmitter Trouble Alarm issued when transmitter fails to work or there is RF interference.

Receiver
• The Receiver body is light and compact, easy to install
• Standard data interface for data communications of various types of vehicles
• High sensitivity and powerful function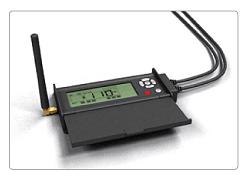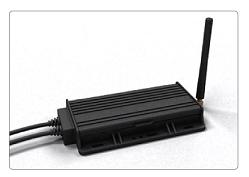 Transmitter
• External transmitters, beautiful appearance and easy to install
• Durable high-strength material, resistant to high pressure and high temperature
• Water-proof, resistant to oil, dust and other harsh environments
• Monitor tire pressure accurately and response rapidly
• Though security lock, transmitters are installed firmly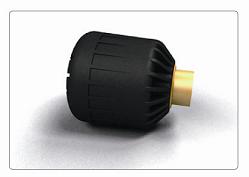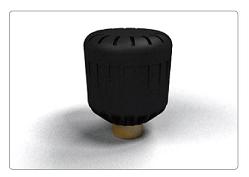 Standard Booster
• Easy to install
• User can choose whether to install according to the vehicle type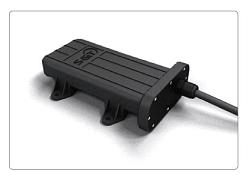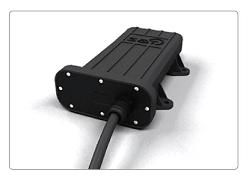 Specifications
Receiver
Transmitter
• Mid-frequency:434.1MHz
• Receiving Sensitivity: -105dBM
• Input Voltage: DC12V/24V
• Operating Temperature: -30℃~+75℃
• Dimension: 156×90×23mm
• Mid-frequency: 434.1MHz
• Transmitting Power: 0dBM
• Pressure Monitoring Range: 0~13bar/0~188psi
• Pressure Monitoring Pricision: ±0.15bar/±2psi
• Operating Temperature: -40℃~+125℃
• Life: 4~5 years
• Dimension: Φ27.5*32.5mm
Standard Booster
• Mid-frequency: 434.1MHz
• Receiving Sensitivity: -105dBM
• Input Voltage: DC12V/24v
• Operating Temperature: -40℃-+85℃
• Dimension: 203*123*51mm